Our new online registration system for courses in 2017 and 2018 is now live. We hope it will provide a convenient way to register for a course at the College, while also providing an efficient way for us to collect the essential information needed for every participant. Many hours have gone into this project as the admin team at the College has developed and tested every step in the process.
The new registration system is built around our online learning software, MOODLE. This software allows us to offer a rich online learning experience to people before they arrive and to extend that service for as long afterwards as people wish to stay connected to the resources we provide.
Step One
When people first select a course they will be asked to create their unique user account on the system, or to sign in with their existing username if they already have a user account. For this step we need just a few essential items so that we begin the process: first name, last name, email address, city/town, and country. You then choose your own password, following the guidelines listed on the page, and you will be automatically added to the online learning space for your chosen course.
Step Two
Of course, we do need some more detailed information from you before we can confirm your place in the chosen course, but this is gathered in step two. This includes essential information such as your full legal name and passport details, as well as optional information such as any dietary preferences.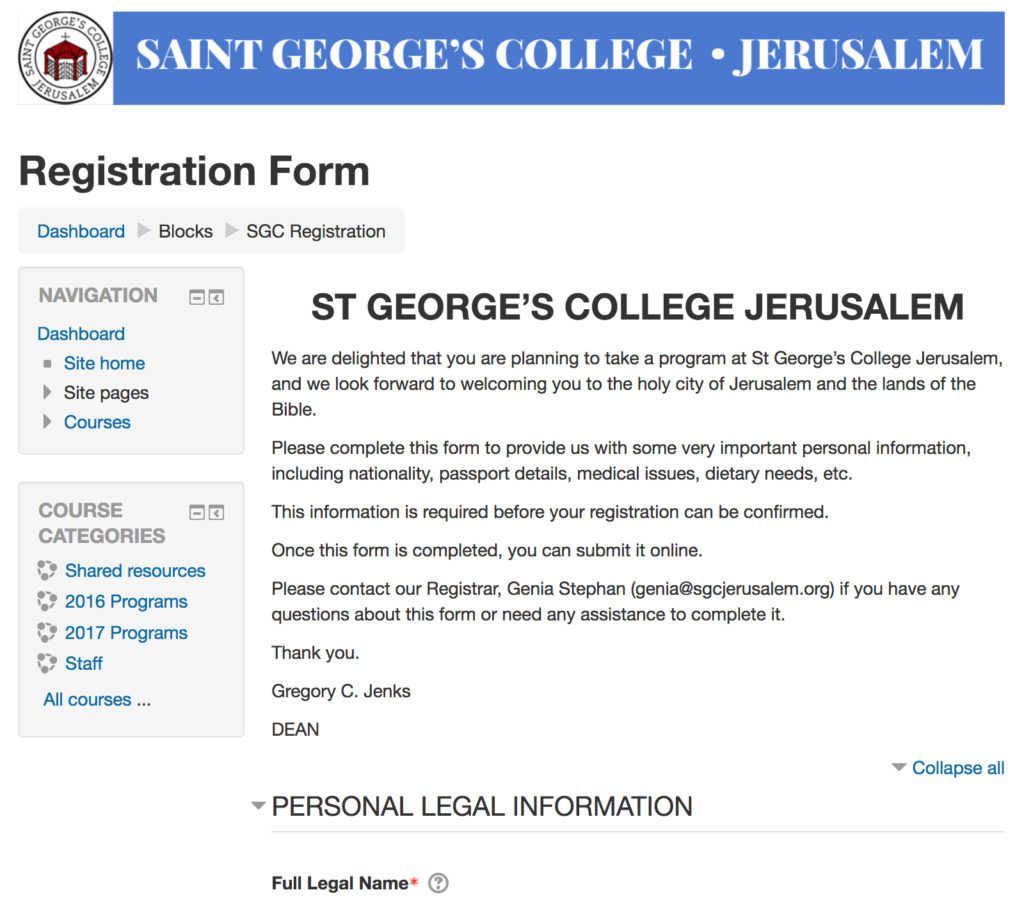 Step Three
The final step is to pay your non-refundable deposit of $500. The web form will offer you an easy option for online payment, using either PayPal or your own credit card, as well as options for payment by other methods. This also allows for those people who may be scholarship recipients not to pay the deposit.
Once these steps are completed your will receive an email welcoming you to the course, and you can begin to explore the resources that may already be available online for your chosen course. Typically these will be available a couple of months before the start of a course, but you will be able to engage with other participants in the dedicated online forum for your course and also ask the teaching staff any questions on our mind as your prepare for your program with us.
You will be invoiced from the College office for the remaining balance of your fees around 60 days prior to the commencement of the course.
There may be teething problems with this process, but we have tested it quite extensively. Please contact the College office directly if you have any queries or need any assistance with the process.