Wrapped in the Arms of Christ
February News from St. George's College: "Wrapped in the Arms of Christ"
Dear Alumni and Friends of St. George's College,
One of my evening pleasures is to read the evaluations at the end of our college courses. Recently re- reading the reflections from February, I was struck by the beautiful imagery of one anonymous writing; I have used it almost like Lectio Divina for the past few days.
            " This was an experience of a life time.   I felt welcomed, secure,                                    nourished and wrapped in the arms of Christ. "
As we enter the season of Lent, may these forty days of prayer and fasting bring us closer to such a Grace-filled encounter with the living Christ. My hope is that his infinite love can continue to strengthen us, embrace us during life's journey for our own selves and for how we might better serve our neighbor.
It is my privilege to welcome all pilgrims who come to St. George's College and together with the staff lead you to the sacred spaces where the Holy Spirit dwells- to be "wrapped in the arms of Christ."
In the friendship of Christ,
Susan+
Associate Dean
St. George's College
                                                Exciting News to Share
March Madness begins today… We are offering two very important promotions in hopes that you and your friends will enroll in a course at St. George's College.
The college will extend a 10% discount on program fees if you register by April 15, 2017, for a course offered in 2017. Please visit our website or email for details.
The college is also offering an additional promotion for all alumni. If you bring 5 pilgrims with you for an SGC course, your course fee is $0.00!! This offer is good on all courses through July 2018.
Please spread the news about our current promotions and email us for any additional information. Inshallah- we will see you soon at the college and welcome you to our community once again for a transformational faith journey in the Land of the Holy One.
https://www.saintgeorgescollegejerusalem.com
mailto:associatedean@sgcjerusalem.org
                                                February Course Highlights
Director of Studies, the Revd. Dr. Hector Patmore, along with our college Chaplain, the Revd. John Reese and Bishara Khoury, Liaison and Logistics Officer, took our February group atop the ancient fortress of Masada. Riding a camel was an unexpected addition to the day spent in desert places.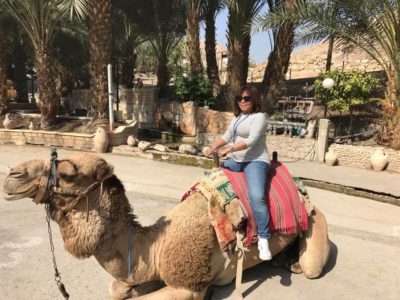 Our course " Palestine of Jesus- the Spirituality of Lent, " is underway as you receive this newsletter. Hazel Reese, our chaplain's wife, shared a reflection with me about the Shrove Tuesday festivities at the Guest House with students and the St. George's Cathedral community. "We have a lovely group in now (mainly Canadian Military Chaplains) and have just come back from pancake races and a tea party organised by David Longe.[ Archbishop Suheil's chaplain] Not long 'til dinner if any of us has room for it!" Never underestimate the good food of our Chef Joseph and having fun whilst being a pilgrim in the Holy Land.
                                    February Alumni Reconnections
February has been a very celebratory month of alumni reconnections and celebrations across the United States for the Associate Dean! I drove over 800 miles and crisscrossed airspace from Philly to North Carolina, down to Houston and back to Washington DC.  The month began with preaching and teaching in Lancaster Pennsylvania with alumni who attended the Women of the Bible Course. Nestled in the bucolic hills of Amish country, it was a warm and fun filled reunion. However, this was my first time in over a decade driving in snow- and I survived thanks to Helen leading me out of town through the maze of traffic, snow flurries and pointing the way to Interstate 76! Thank you Helen!
Wilmington alumni welcomed me for a forum at Christ Church where one of the alumni brought a scrapbook about her pilgrimage at St. George's College in 1993.  What a walk down memory lane we shared together! Thank you Matilda Maassen, class of 1993!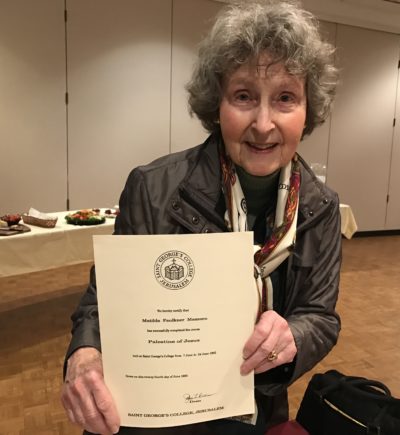 Matilda SGC Class of 1993
Our Presbyterian alumni from First and Central in downtown Wilmington welcomed me with a packed forum in anticipation of their return trip to SGC in 2018. This will be the Rev. Dr. Doug Gerdts 3rd trip to St. George's College, and the Rev. Kaci Clark-Porter's 2nd pilgrimage… now that is love and friendship!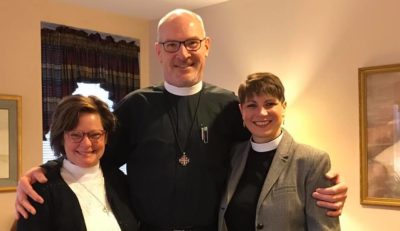 Between out of town speaking engagements, my home base was Virginia Theological Seminary courtesy of Dean Ian Markham and his wife, Lesley. Seeing 3 classes of SGC alumni who are current VTS seminarians defined my daily happiness- chapel worship, refectory meals together, and evening class audits engaged in theological debate. More alumni and new friends were made at the CEEP conference where St. George's College had an event table. Thank you Virginia Theological Seminary for opening your community to me; I leave with immense gratitude for the partnership you share with St. George's College.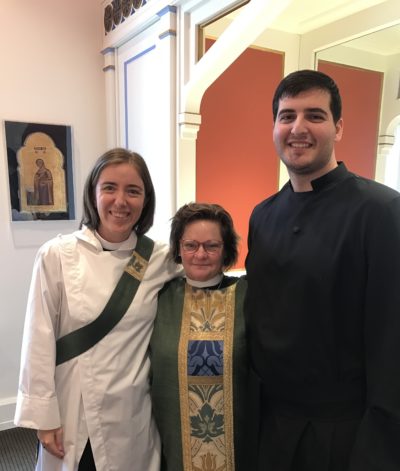 I returned home to Houston's Christ Church Cathedral where my homily began with the requisite nourishment of Tex-Mex queso! Rev. Barkley has just joined the North American Committee, and I look forward to partnership in creative ways we might bring more Texans to St. George's College in the near future.
As I prepare to return to Jerusalem, my heart is filled with gratitude for meeting so many alumni in their home churches, sharing meals, prayer and laughter together. These days nourished me and you made me feel " wrapped in the arms of Christ." I am very grateful to all the people that helped organize my visits and shaped the time I spent with you.
Looking Ahead to March

We have a very special program at the college in March:  
            The Mission Theology in the Anglican Communion Conference in Jerusalem                                                        at St. George's College
The Right Revd. Graham Kings, from the U.K. and Dr. Muthuraj Swamy from India, will host the event at St. George's College with morning 3 hour webinar sessions Monday, March 27 thru Thursday, March 30. Participants from Nairobi, Abuja, Uganda, Kenya, Egypt, Turkey, Japan, Brazil and Myanmar will join together in engaged conversation and shared writings.
Please email the Associate Dean for any additional information. associatedean@scgjerusalem.org
                                    Welcoming Pilgrims from Ghana 
Our staff is looking forward to welcoming 19 pilgrims from Ghana who will be participating in the March Introduction to Bible Lands course. They will bring great insight to our community and strengthen our faith journey that we all share in Christ. Welcome! Karibu!
                                    North American Committee Meeting
St. George's College could not exist with out the sustaining support of the alumni and friends of the college and those that volunteer their time to serve on the North American Committee. It is through this network of friendships and countless volunteer hours that our college leadership is strengthened by wisdom from these committee members.The NAC members traveling or skyping in from various places across America and Canada, will be hosted at Virginia Theological Seminary March 2 and 3. We are grateful for this committee and the vision they continue to provide for the college. Thank you for scheduling this meeting during a time when the Associate Dean can attend in person.
                                                Lenten Prayers
My good friend Rev. Grey Maggiano spoke yesterday about Lent, and he posited that the season might include forty days of " repairing our relationship… develop and strengthen our relationship with God and our neighbor." The staff of St. George's College and the Cathedral Close will keep those wishes and you in our prayers during this Holy season. May you also pray for us that peace can find a home in   our worlds  and let all people be " wrapped in the arms of Christ."
On behalf of the St. George's College Staff for whom I have the honor to serve,
Susan+